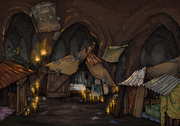 The Underground is where the Zombies of Subeta reside. You could originally only find rubbish here but it now leads to other areas of the underground. Skitters referred to the place as Skuh-Eye but it is yet to have a recognised title.
By clicking on the left most hole it will take you to the Underground Commerce District. Clicking on the right hole would lead to the Skylight Cavern.
External Links
Edit
Ad blocker interference detected!
Wikia is a free-to-use site that makes money from advertising. We have a modified experience for viewers using ad blockers

Wikia is not accessible if you've made further modifications. Remove the custom ad blocker rule(s) and the page will load as expected.