Allard Meriwether Chetwood
, more commonly known as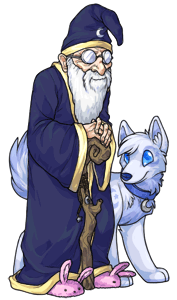 The Old Wizard, is an aged man that lives in the Sacred Lands where he runs his quests. He is not married but has a lone companion kumos named Luna.
There is not much known about the wizard's past due to his failing memory, although it is known that he has a liking for "bras", although no one knows why. Completing his quests will reward you with "Wizard Tokens", something only The Old Wizard gives out.
He was the tour guide for the Sacred Lands in the Councilor's Cruise.
External Links
Edit
Ad blocker interference detected!
Wikia is a free-to-use site that makes money from advertising. We have a modified experience for viewers using ad blockers

Wikia is not accessible if you've made further modifications. Remove the custom ad blocker rule(s) and the page will load as expected.