For the book of the same name see The Gate Keeper. For the Battle Coliseum Opponent of the same name, see The Gate Keeper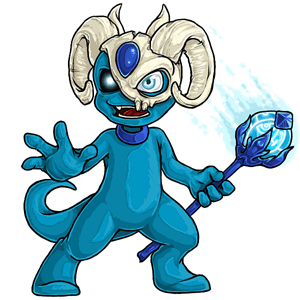 The Gate Keeper is a slave of Maleria and is responsible for running Blackheart Hollow in the Darkside. His true name is Ruben Theodulus and he is the member of an unnamed reptilian species.
He wears a skull mask to hide the scars on his face he recieved by originally trying to fight his fate as a slave. His collar is used to keep him in check by Maleria and his staff was a gift from The Old Wizard. The gem on his mask is the source of his magical powers.
The Gate Keeper has been a slave to Maleria for thousands of years and does so to keep his family safe. He has asked Maleria for only one favour: that his children are not raised in slavery. She did grant this but at a price, she did not allow him to ever touch them, instead allowing his offspring to be sold at Blackheart Hollow to be cared for by Subetans.
External Links
Edit
Ad blocker interference detected!
Wikia is a free-to-use site that makes money from advertising. We have a modified experience for viewers using ad blockers

Wikia is not accessible if you've made further modifications. Remove the custom ad blocker rule(s) and the page will load as expected.