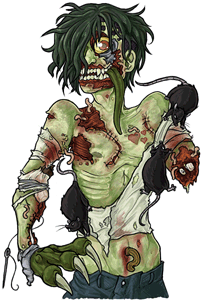 Skitters is the shop keeper of the Zombie Den. He is also the spokesperson for the Zombies and may also be running for chancellor in the near future.
Skitters worked hard to get Subetans to kiss Fantine during the Survival celebrations.
In 2012, Skitters was one of the major parties involved in The Shadowglen Underground plot. He led an investigative into Ecks's plotting but managed to come out second best in the end.
Ad blocker interference detected!
Wikia is a free-to-use site that makes money from advertising. We have a modified experience for viewers using ad blockers

Wikia is not accessible if you've made further modifications. Remove the custom ad blocker rule(s) and the page will load as expected.