Peka Park Food Fest was an event that occurred on June 26th 2017. Multiple food trucks were parked out the front, with the Subetan Bake-Off voting tent and a giant bowl where they were trying to make the biggest cake ever.
The Food Trucks
Edit
Each food truck had their own chalkboard that had the menus. If you clicked on the names of each menu item it would show the food and how much it costs.
Food Bowl
Edit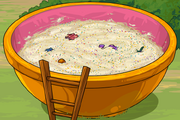 Welcome to the community cake bowl, we're going for the record! We're going to make the biggest cake ever and we need you to help us out! Throw something in from the Food Market or Candy Shack before the next person has a go. You might just get something in return!
Items bought from each of these places could be deposited into the bowl with the random chance of getting a special item in return.
The Great Subetan Bake-Off!
Edit
This contest was for users to create a new fast food item either in real life or to design an item. Users could then click of the tent and vote up or down each picture of the creations.
Ad blocker interference detected!
Wikia is a free-to-use site that makes money from advertising. We have a modified experience for viewers using ad blockers

Wikia is not accessible if you've made further modifications. Remove the custom ad blocker rule(s) and the page will load as expected.