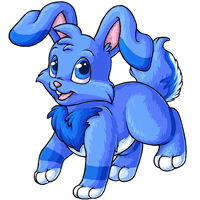 The Kanis is a rabbit like pet.
Appearance
Edit
The Kanis (KAY-nis) is a blue rabbit. It has a cream underbelly and paws but a dark blue ruff. It has a dark blue stripe on each leg and at the tips of its ears.
Did You Know?
Edit
The Kanis was previously called Canis before its revamp
Kanises have one of the largest spacial distribution in Subeta; the species can be found in a range extending from as far northwest as Peka Glade; as far east as Riverside; and to the southern coastline of Veta Lake
They can weigh from 10-15 pounds (4.5-6.8 kg)
Females give birth to 3 to 12 babies, which are called kittens, which grow very quickly and can live on their own at just 5-6 weeks
Ad blocker interference detected!
Wikia is a free-to-use site that makes money from advertising. We have a modified experience for viewers using ad blockers

Wikia is not accessible if you've made further modifications. Remove the custom ad blocker rule(s) and the page will load as expected.