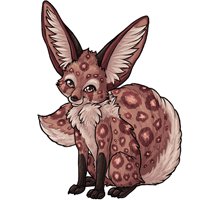 The Jollin is a fox like pet.
Appearance
Edit
The Jollin (JAH-lin) is a brown fennec fox. It has black front legs and back paws. It is covered in light spots and has a ruffled chest.
Did You Know?
Edit
The Jollin was based off of a fennec fox and a snow leopard.
The Jollin is a native species of the Sacred Lands, but older archives have shown that some "accidentally" migrated to the Arctic Frost.
They are highly social creatures and communicate through "yips"
Jollins are very small and weigh arond 6-8 lbs (2.7 - 4 kg)
Ad blocker interference detected!
Wikia is a free-to-use site that makes money from advertising. We have a modified experience for viewers using ad blockers

Wikia is not accessible if you've made further modifications. Remove the custom ad blocker rule(s) and the page will load as expected.