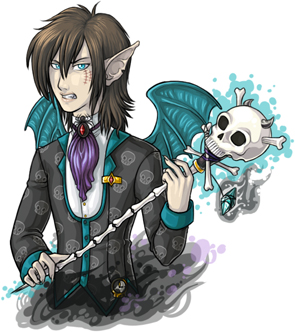 Jaxon Skelly gained celebrity status when one Morostide, he decided to open his private and rather overgrown Pumpkin Patch to the public. Ever since then, Jaxon has found that he is unable to find a moment's peace, and much to his disgust, he has fallen prey to Subeta's mechanised conglomerates in the form of various plushies and items. He resides in Shadowglen Graveyard and is probably one of the Tehb.
He is the second cousin 4th removed of Elwood.
Snowflaik was apparently his pet when he was younger, which Ian Asmodeus helped fuse the spirit back in the body so he could keep her.
It is revealed in the Peril at the Patch plot that Jaxon is actually a ghost who is only visible during the Morostide period. Ian has been working with him to get him into a physical body.
Ad blocker interference detected!
Wikia is a free-to-use site that makes money from advertising. We have a modified experience for viewers using ad blockers

Wikia is not accessible if you've made further modifications. Remove the custom ad blocker rule(s) and the page will load as expected.