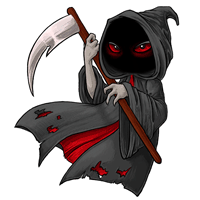 The Harvester is a reaper-based pet.
Appearance
Edit
The Harvester has a similar appearance as the Grim Reaper. It wears a tattered black robe split down the middle with red underneath and carries a large silver scythe with a wood handle. The only visible part of its body is its arms which are thin, have three fingers and are grey-skinned. It has large, glowing red eyes that can be seen from the blackness of its hood.
It is available in 22 colors, including Glacier, Graveyard and Reborn.
Did You Know?
Edit
Harvesters originally come from Shadowglen Graveyard
They can, in fact, reap souls.
Harvesters are often described as wicked, scary, spooky, and evil.
A customized Dusk Harvester runs the Potion Lottery.
The company Harvester Night Trends provides all of the Harvester clothing to the Clothing Rack.
Ad blocker interference detected!
Wikia is a free-to-use site that makes money from advertising. We have a modified experience for viewers using ad blockers

Wikia is not accessible if you've made further modifications. Remove the custom ad blocker rule(s) and the page will load as expected.