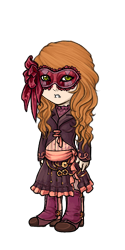 Gossip Cassandra was part of the Atebus Masquerade Murder. In 2012 she appeared during the Masquerade in an outfit designed by Hazel.
She handed out 2 invitations:
List of Quotes
Edit
Oh, no, no, no, honey. Have you been to a Masquerade before? You must wear comfortable shoes for dancing!
I am really surprised that Mister Yun finally accepted the invitations from the Ziaran Council. I wonder what changed after all these years-- besides his marriage and relationship with his son.
My sister's hairdresser's husband does Jules taxes and let it slip that Jules was getting close to broke from all of the money he spends on his frivolous research.
It brings up an interesting question: Who inherits the Yun legacy? I know Marcel was his business partner, but it could just as easily go to Jules or Isaac. Oh, dear. What a messy situation.
I did overhear Garret telling Jules that he would always be there for him and would do anything. All Jules needed to do was ask. I recall Jules being quite upset at the time. What if that request was murder?
I know everyone is taking pity on "Poor Isaac" right now, but money does strange things to people. I can't say I pity him. How poor was he before he was adopted by Vernon? I suspect he grew to like the lavish lifestyle and wanted more of it.
External Links
Edit
Ad blocker interference detected!
Wikia is a free-to-use site that makes money from advertising. We have a modified experience for viewers using ad blockers

Wikia is not accessible if you've made further modifications. Remove the custom ad blocker rule(s) and the page will load as expected.