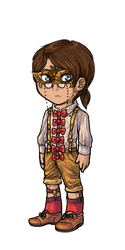 Gossip Anthony was part of the Atebus Masquerade Murder. He reappeared during the 2012 Masuqerade in an outfit by the new Subeautique Designer Dapper So.
He handed out 2 invitations:
List of Quotes
Edit
I quite worry about Adriette. It's clear to me that her father never loved her, so she's seeking attention from every male she comes across.
Have you tried the Bloody Marians at the Libertine Lounge yet? Positively top notch. I really should slow down on my consumption. My wife says I am overly chatty when inebriated.
I don't know why people keep inshishting that Adriette offed Vernon. Not only doesh she not have the strength, but it alsho makes no shense. Why kill him before she won him over and-- *hic!*-- married him for the money?
Woo-oooo! I think while the lightsh were out the bartenders couldn't tell just how shtrong they were making these drinksh. *hic!* My last few Bloody Marians were superb! What a fun Masquerade!
Ishaac had blood on his handsh, sure, but I dunno why he'd kill him. He wash classhically codependent. Extremely loyal. He was probably trying to resushi-- *hic!*-- resushita-- *hic!*-- revive him.
The old guy ish dead, huh? I shay he had it coming. Those controlling typesh sheldom make and keep friends for long. Shurprised Marcel hung around ash long ash he did. Maybe he had enough.
External Links
Edit
Ad blocker interference detected!
Wikia is a free-to-use site that makes money from advertising. We have a modified experience for viewers using ad blockers

Wikia is not accessible if you've made further modifications. Remove the custom ad blocker rule(s) and the page will load as expected.