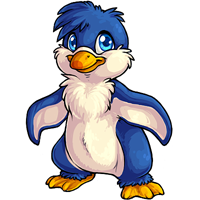 The Cybill is a penguin like pet.
Appearance
Edit
The Cybill (SIB-ill) is a dark blue penguin with a cream underbelly. it has golden colored webbed feet and a golden beak with an orange tip.
Did You Know?
Edit
The Cybill was voted more likeable than another penguin pet, the Slushii, and so was kept in its stead.
The Cybill is a limited pet.
Captain Fishbreath Jacques is a cream Cybill.
Like their real-life counterparts, Cybill are native to Arctic Frost's icy climate. However, they are occasionally found in warmer climate zones, such as the Cybill relaxing on Delphi Beach.
Cybills are a rather large species of bird, standing about 2' (.6m) tall and weigh anywhere from 8.5 to 16 lbs (4 to 7.26kg).