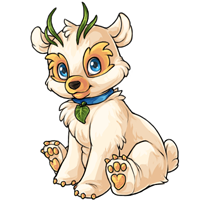 The Chai is a bear like pet.
Appearance
Edit
The Chai is a cream colored bear with golden paw pads. There is also some gold around its blue eyes and muzzle. It has four green sprouts coming from its forehead. It also wears a blue collar with a single green leaf attached to it.
It is available in all 29 colors, including Glade, Glacier and Spectrum.
Did You Know?
Edit
The Chai was possibly named after Keith's real pet dog.
As their name would suggest, Chais have a great fondness for tea....and honey.
Chais are soft and squishy mammals.
The Element Mage is the most well known Chai.
Ad blocker interference detected!
Wikia is a free-to-use site that makes money from advertising. We have a modified experience for viewers using ad blockers

Wikia is not accessible if you've made further modifications. Remove the custom ad blocker rule(s) and the page will load as expected.