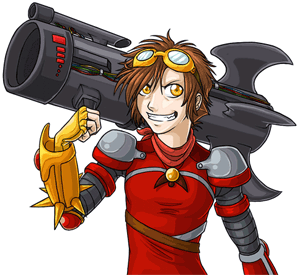 Calvin Blackmoon is the dictator of Atebus, cousin of Sebastian Phoenix, and president and CEO of Blackmoon, Inc., the company responsible for the manufacture of cadogres and endeavors.
Calvin was orphaned at a very young age and was adopted by his aunt Gloria and uncle Günther Phoenix. He showed signs of his intelligence as early as age two when he taught himself how to read. As Calvin grew, he demonstrated a marvelous adeptness with machines and built a fully functioning robot named the cadogre by the age of 10. He released these robotic pets in limited amounts to the public, who were completely unaware of his ulterior motives.
Young Calvin's plans were to amass an army of robots, pets, and owners to assualt the experimental settlement of Atebus. After many years of scheming, he gave a crushing blow to the defense forces of Atebus and decimated those who stood against him with his superior numbers, weaponry, and his own brilliant strategical mind. The war was over in a matter of days. The goverment of Subeta quietly accepted defeat and quickly covered up the loss. Calvin then set out to build a sprawling technologically-dependent city named Ziara on the moon. Everything for the city would be manufactured at his company, Blackmoon Incorporated.
External Links
Edit
Ad blocker interference detected!
Wikia is a free-to-use site that makes money from advertising. We have a modified experience for viewers using ad blockers

Wikia is not accessible if you've made further modifications. Remove the custom ad blocker rule(s) and the page will load as expected.