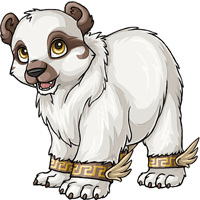 The Anyu is a bear-like pet.
Appearance
Edit
The Anyu (AHN-yoo) is an off-white colored bear with brown on its ears, muzzle and around the eyes which are golden in color. Around its feet are brown anklets featuring a golden Grecian pattern with wings attached to each one.
Did You Know?
Edit
The Anyu is a native species of the Arctic Frost.
Some popular anyus include Angrybeard, Babette, Tempest and Mama Mush.
They are tall creatures, reaching up to 6' (1.8m), with the males weighing anywhere from 400-900lbs (181-408kg).
They have 1-2 cubs which will stay with the parent for around 2 years.
Ad blocker interference detected!
Wikia is a free-to-use site that makes money from advertising. We have a modified experience for viewers using ad blockers

Wikia is not accessible if you've made further modifications. Remove the custom ad blocker rule(s) and the page will load as expected.